As a global provider for spinal implants, we are committed to manufacturing quality products and demand equivalent standards from our suppliers to help ensure patient safety. Because all of our raw materials, in the form of PEEK and Titanium are from the USA, our products are manufactured with consistent confidence so that our surgeons and patients can have confidence in the quality, safety and testing of the strictest standards. All of SAGICO's suppliers are ISO 9001, ISO 13485 and 93/42/EEC, the Certificate of European Conformity (CE) as qualified with standards established ranging from material procurement to design development and automated production process systematizing an unrivaled quality assurance process that exceeds many global standards.

PEEK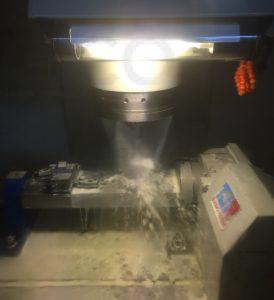 SAGICO manufactures its PEEK products with raw materials from Invibio, based in the USA, who is a proven medical device partner and leading provider of biomaterials solutions. For over 15 years, Invibio has used their revolutionary polymer materials, unsurpassed manufacturing support and deep medical device knowledge have helped device companies around the globe bring innovative products to market more rapidly. No-one can match Invibio's depth of knowledge and breadth of experience in the design, manufacture and commercialization of medical devices containing PEEK-based polymers. Invibio welcomes the opportunity to partner with device manufacturers to address unmet clinical needs by developing next-generation medical devices composed of PEEK-OPTIMA polymers. Patient's rising performance expectations and heightened regulatory scrutiny have made it more challenging for designers to develop innovative new devices. By collaborating with Invibio, the leader in PEEK processing, orthopedic organizations can optimize new product design and development programs and realize manufacturing efficiencies that expedite product commercialization.
Invibio is an established, ISO-certified manufacturer of components and devices made with PEEK-OPTIMA polymers. Invibio's operations team has a proven history in implantable orthopedic devices, and expertise using specialized processing technologies within controlled manufacturing environments. Invibio experts work side-by-side with its partners to develop and deliver devices that improve patient outcomes. (*elements attributed to Invibio)
TITANIUM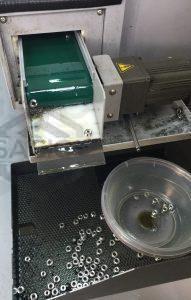 SAGICO manufactures its titanium products with raw materials from USA based Dynamet Incorporated. Dynamet is an international supplier of high quality titanium products in a wide range of forms including wire, fine wire, precision shapes, coil, strip, and bar. As a subsidiary of Carpenter Technology Corporation, Dynamet is a leading supplier of medical grade titanium alloy materials. Within the medical world, titanium is the metal of choice due to its favorable biomedical characteristics, including inertness to bodily fluids and tissues as well as high strength-to-weight ratio, corrosion resistance, and superior osseointegration capabilities. Our high-quality Dynamet titanium alloys such as CP Titanium Grades 1-4, Ti-6Al-4V, Ti-6Al-4V ELI, Ti-6Al-7Nb, and Ti-15Mo—are used by several of the world's top medical device manufacturers for applications that include joint replacement (knee, hip, shoulder, etc.), dental implants, ORIF surgery (screws, plates, rods, and pins), fusion hardware (pedicle screws and spinal rods), and vascular procedures (stents, coil occlusion, PDA closure, etc.). Additionally, the alloy's non-ferromagnetic properties allow patients with titanium implants to be examined with MRI, NMRI, and MRT medical imaging / radiology equipment.
Dynamet's family of alloys offers the industry's most complete portfolio of blade and knife making steels—expertly engineered to exhibit varying degrees of hardness, toughness, wear resistance, corrosion resistance, and edge retention. Dynamet's alloys have achieved significant popularity among manufacturers of surgical instruments and medical devices, including scalpel blades, surgical scissors, and bone saws.  (*elements attributed to Dynamet)
Tantalum Markers –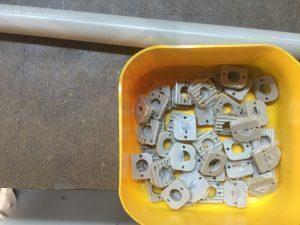 There is a reason SAGICO utilizes the quality tantalum of X-medics, and not just because X-medics supplies tantalum products to 5 of the 10 largest spinal implant companies in the world. SAGICO uses X-medics because of it scientific evidence based on the complex biocompatibility testing, cytoxicity reports, the cleaning and passivation processes, and the continued usage of independent ISO 17025 accredited laboratories for material testing of tantalum wire as well as all material used in fabrication tantalum beads / ball / spheres.
SAGICO uses this leading supplier of medical grade tantalum beads, tantalum balls, tantalum spheres and tantalum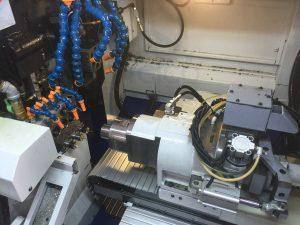 wire markers for improving x-ray radio-opacity in implant applications. A superior product quality combined with short lead times and the ISO 13485 medical quality system certification have made X-medics a market leader within medical grade tantalum components.
The surgical grade and medical grade tantalum utilized in medical devices are specified in a number of standards such as; ASTM F560: Standard Specification for Unalloyed Tantalum for Surgical Implant Applications (UNS R05200, UNS R05400), ISO 13782: Implants for surgery -Metallic materials- Unalloyed tantalum for surgical implant applications, and BS 7252-13: Implants for surgery -Metallic materials – Unalloyed tantalum for surgical implant applications.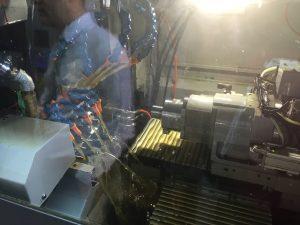 These standards specify the chemical, mechanical, and metallurgical requirements for unalloyed tantalum used in orthopedic surgery or in the manufacture of surgical implants. The material specifications in the standards are substantially similar, where the British surgery standard BS 7252-13 is identical to the ISO 13782 standard. The surgical and medical grade tantalum base forms are covered by the ASTM F560 standard for; Tantalum plate for surgery are defined a flat product more than 0.1875 in. (4.7 mm) in thickness, Surgical Tantalum sheet are flat products less than 0.1875 in. (4.7 mm) in thickness and more than 6 in. (152.4 mm) wide, Tantalum strip is a flat product less than 0.1875 in. (4.7 mm) in thickness less than 6 (152.4 mm) in. wide, Tantalum rod for surgery is defined as a material with a diameter between 0.125 to 2.5 in. (3.18 to 63.50 mm) supplied in straight lengths (round, hexagonal, or octagonal cross section). Additionally, the ASTM F560, ISO 13782 and BS 7252-13 specify two acceptable base grades of surgical tantalum. The first is Type R05200: unalloyed tantalum vacuum-arc melted or electron-beam melted ingots and the second being Type R05400: powder-metallurgy consolidated unalloyed tantalum. There are no differences in the mechanical requirements of surgical grade tantalum type R05200 and R05400.  Concerning the chemical composition of the tantalum slight higher oxygen and hydrogen levels accepted in R05400 surgical grade tantalum compared to R05200. (*elements attributed to X-Medics)
CONTACT US TODAY ABOUT OUR PRODUCTS!