OSI Spinal System:
System Overview:
The SAGICO OSI SPINAL SYSTEM constructs of monoaxial screws, uniplanar screws, polyaxial screws, reduction screws, locking cap set screws, rods, hooks, connectors and associated with unique easy to use surgical instruments. The SACICO OSI SPINAL SYSTEM implants are available in a variety of sizes to accommodate individual patient anatomy and pathology conditions. SAGICO OSI SPINAL SYSTEM implants are designed to adapt 5.5mm diameter rods; the implants are manufactured from Ti6A14V alloy. (Sterile Packaging may be available)

System Features:
Pedicle screw designed to provide bone anchoring for both cortical and spongiosa bone uptake.

Polyaxial screw offers a much flexible solution with its movable head with 50 degrees angle. This helps the surgeons with the fixation process.

Bone specific anchoring using screw technology with cortical core profile has cylindrical large core features with wide and intensive threads. This enables better uptake between the pedicle bone and the screw.

Buttress lock set screw to prevent screw tulip splay and revision.

Accommodates 5.5mm rods.

Double-lead screw to reduce the amount of revolutions to insert and double cross threading.

Reducing insertion torque due to self-tapping fully threaded blunt tip screw shank which is designed to improve bone screw fixation.
Indications for Use:
The SAGICO OSI SPINAL SYSTEM is intended for use in the non-cervical spine. When used for anterior/anterolateral and posterior, non-cervical pedicle and non-pedicle fixation system, the SAGICO OSI SPINAL SYSTEM is intended to provide additional support during fusion using autograft or allograft in Skeletally mature patients in the treatment of the following acute and chronic instabilities or deformities:
Degenerative disc disease (DDD) (defined as back pain of discogenic origin with degeneration of the disc confirmed by history and radiographic studies);

Spondylolisthesis;

Trauma (i.e. fracture or dislocation);

Spinal stenosis;

Curvatures (i.e. scoliosis, kyphosis, and/or lordosis);

Tumor;

Pseudoarthrosis; and

Failed previous fusion
When used for posterior non-cervical pedicle screw fixation in pediatric patients, the SAGICO OSI SPINAL SYSTEM implants are indicated as an adjunct to fusion to treat adolescent idiopathic scoliosis. The SAGICO OSI SPINAL SYSTEM for pediatric use is intended to be used with autograft and/or allograft. Pediatric pedicle screw fixation is limited to a posterior approach.
Compatible with the NEMESIS Transverse Connector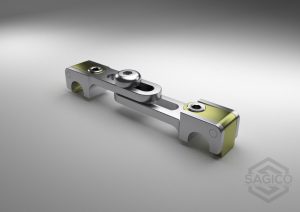 CONTACT US TODAY ABOUT OUR PRODUCTS!